Increase Construction Site Efficiency
Many contractors have made the smart decision to partner with PODS to help increase construction site efficiency, manage costs more effectively, and reduce the risk of damage and theft.
SECURE CONSTRUCTION STORAGE
SOLUTIONS FOR CONTRACTORS
Flexible Jobsite Storage
PODS tailors a flexible, scalable portable storage solution that aligns with your construction project, and can be changed as your project changes.
Rarely does a job go exactly as planned, putting you at risk for missing deadlines or going off-budget. That's why staying flexible is critical.
PODS tailors a customised solution that aligns with the goals of your project. So even in the face of the unexpected, you can avoid costly delays by ensuring your tools and materials are organised and ready for use when and where you need them.
You can utilize PODS containers in a number of ways, including:
Convenient, secure jobsite storage that moves with you and your crew, across the jobsite, across town or interstate
A smart alternative to traditional warehousing
Asset security with secure, lockable storage containers; only you have the key
Damage minimisation when utilising Podzilla, our revolutionary patented hydraulic lift system, keeping container level while being loaded onto and off PODS trucks
Ease of placement, with Podzilla able to position containers in hard-to-reach and tough-to-fit locations
Scale up or down as needed with one container or multiple, depending on the demands of your project
Secure Construction Storage
Reduce the risk of theft, vandalism, and damage by the elements with a PODS sturdy, weather-resistant container.
Theft and damage of jobsite assets can set your project back considerably and cut into profits. High prices for construction equipment and materials have made theft a growing concern among construction professionals.
PODS' steel-framed, weather-resistant containers have been determined to withstand wind velocities of up to 170km/h when partially loaded. They are specially designed to reduce the risk of moisture-related damage caused by condensation and mold.
With all PODS containers, whether stored at your jobsite or in one of our secure Storage Centres, you own the lock and key, so your container's contents are only accessible to people you give the key/s to.
Disaster Response Solutions & Rectification Works
PODS provides flexible, immediate solutions to restoration contractors, insurance carriers and emergency response agencies. With flexible solutions, fast logistic support and secure storage, PODS containers can expand storage capacity for short- and long-term periods in a secure environment.
Click here for more information about our Emergency Moving and Storage services.
Solutions for Contractors and Trades
Easily manage multiple contractors and subcontractors with portable storage solutions that provide them with everything they need from start to finish.
Managing multiple contractors has its challenges, but keeping them on schedule and on budget is vital to production. Coordinate contractors' workflow with the help of PODS portable storage containers.
Preload PODS containers with subcontractors' necessary tools and materials.
Have fully loaded containers delivered directly to the jobsite and repositioned where subcontractors need them as they progress through the job.
Reduce the risk of theft and damage by the elements.
Reduce clutter and improve jobsite organisation.
Save time by letting PODS take care of the transportation and by cutting out unnecessary unloading and reloading tasks.
Why PODS for Contractor and Trade Moving and Storage?
Our sturdy, weather-resistant PODS containers offer year-round protection of your assets. Providing moving and storage centres from Adelaide to Brisbane, we can provide a delivery service to many areas in and around Sydney, Melbourne, Brisbane and Adelaide.
PODS® containers are made of steel frame construction with a water-resistant seal and can withstand winds up to 170km per hour when partially filled.
With 3 different storage container sizes to choose from, we can help with the smallest or largest moving and storage situation.
SMALL
Approx 10.5m3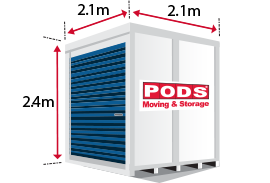 MEDIUM
Approx 20m3
LARGE
Approx 26m3