Revenue Maximising Mobile Storage Solutions
Retail businesses from Adelaide to Brisbane look to PODS mobile storage solutions to help improve inventory management, reduce stock clutter and increase operational efficiency.
Whether you need onsite self storage for your business, or a clean and secure storage centre solution, short- or long-term, PODS can provide a commercial storage solution for your items that need safe keeping.
SMART INVENTORY MANAGEMENT
MANAGE MULTIPLE LOCATIONS
Smart Inventory Management
Simplify inventory management and capitalise on seasonal revenue opportunities with a flexible solution that provides short- and long-term storage options.
In the rapidly evolving economy, maximising revenue has never been so critical for brick-and-mortar retailers. By allowing you to store and transfer merchandise with ease, PODS storage solutions can help you capitalise on revenue opportunities year-round.
Instantly expand your inventory capacity. Store special orders, returns, and seasonal merchandise in a PODS container.
Eliminate driving and unnecessary unloading and reloading. Free up store associates for more crucial tasks.
Keep your store organized and free of clutter. Make it more inviting to shoppers and easier to navigate.
Take control of inventory management. Keep inventory levels optimal at all times with efficient storage and moving combined into one flexible solution.
New Store Openings
Open new stores more quickly while ensuring brand standards are fulfilled at every location with our portable storage solutions.
Whether you're opening a second location or a dozen more, an effective logistics solution is key.
PODS containers allow retailers to store stock, merchandise and more either onsite at the store's new location or offsite at a secure PODS storage centre. The result is a streamlined new store rollout.
Manage Multiple Locations
Store and transfer assets and inventory without having to coordinate with separate fleet and storage rentals.
Managing multiple locations is no easy task. Simplify the process with PODS portable storage solutions. Our containers can help you store and transfer assets and inventory more efficiently, eliminating the need to coordinate with separate fleet and storage rentals.
Why PODS for Retail Moving and Storage?
Our sturdy, weather-resistant PODS containers offer year-round protection of your assets. Providing moving and storage centres from Adelaide to Brisbane, we can provide a delivery service to many areas in and around Sydney, Melbourne, Brisbane and Adelaide.
PODS® containers are made of steel frame construction with a water-resistant seal and can withstand winds up to 170km per hour when partially filled.
With 3 different storage container sizes to choose from, we can help with the smallest or largest retail moving and storage situation.
SMALL
Approx 10.5m3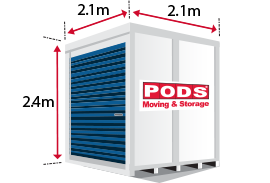 MEDIUM
Approx 20m3
LARGE
Approx 26m3