Flexible storage and moving solutions and expert logistics support
PODS is the smart logistics partner for State Government and Local Council authorities. Many government groups have partnered over the past 20 years to help increase moving and storage efficiency, manage costs more effectively, and reduce the risk of damage and theft to valuable items.
Flexible Solutions
Increase operational efficiency with our flexible moving and storage solutions.
Adaptable portable storage is essential for any smoothly operating government agency. No matter your project type or scope, PODS can save time and help you streamline operations with our portable storage solutions. The concept is simple:
We'll deliver a sturdy, weather-resistant PODS container when and where you need it.
You can either keep it at your location for easily accessible on-site storage, or we'll transfer it to a secure PODS Storage Center until you need it.
You can utilise PODS containers in a number of ways, including:
Emergency planning
Disaster response
Renovations and remodeling
Employee and office relocation
Document storage
Event storage
Fast Response
Whether you need urgent response to an emergency situation or last-minute project or event logistics, you need support from professionals with proven fast response experience – and you need it fast.
Our network of portable storage containers and trucks allows us to respond quickly from Adelaide inland and along the east coast to Brisbane.
Leverage our extensive experience working with government agencies to provide:
On-site or off-site storage for emergency supplies and equipment
Mobile dispensing sites
On-site work spaces and meeting rooms
PODS provides flexible, immediate solutions to restoration contractors, insurance carriers and emergency response agencies. With flexible solutions, fast logistic support and secure storage, PODS containers can expand storage capacity for short- and long-term periods in a secure environment. Click here for more information about our Emergency Moving and Storage services.
Secure storage
Reduce the risk of theft, vandalism, and damage by the elements with a PODS sturdy, weather-resistant container.
PODS' steel-framed, weather-resistant containers have been determined to withstand wind velocities of up to 170km/h when partially loaded. They are specially designed to reduce the risk of moisture-related damage caused by condensation and mold.
With all PODS containers, whether stored at your location or in one of our secure Storage Centres, you own the lock and key, so your container's contents are only accessible to people you give the key/s to.
Why PODS for Government Moving and Storage?
Flexible scheduling
Timelines can change as projects take unexpected turns. Be prepared for delays and setbacks with a solution that has flexibility built into it. With PODS, you're in control of scheduling, so you can take as much time as you need.
Small footprint storage
Make the best use of limited space with small-footprint storage. PODS containers conveniently fit in the space of a single parking spot, and our drivers can position them wherever you need them, even in tight or hard-to-reach spots.
State-of-the-art containers
Your container's contents are only accessible to your crew: You own the lock and key.
Reduce the risk of moisture-related damage caused by condensation and mold.
Our ground-level containers allow for convenient, ramp-free loading.
Priority Scheduling
With our huge network across North America, we're prepared to respond quickly when you need your container picked up or delivered. We can deliver your containers within 24 hours in most cases.
No logistics headaches
With combined storage and moving, there's no need to worry about booking drivers or inconvenient unloading and reloading. With a simple phone call, your direct contact can conveniently have your container relocated where you need it.
Our sturdy, weather-resistant PODS containers offer year-round protection of your assets. Providing moving and storage centres from Adelaide to Brisbane, we can provide a delivery service to many areas in and around Sydney, Melbourne, Brisbane and Adelaide.
With 3 different storage container sizes to choose from, we can help with the smallest or largest moving and storage situation.
SMALL
Approx 10.5m3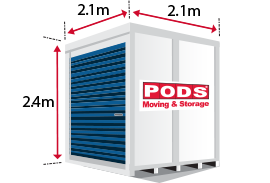 MEDIUM
Approx 20m3
LARGE
Approx 26m3