Whether you are needing to store personal belongings or business items, PODS has a space for you to store it. PODS innovative self storage solutions offer cost-effective convenience and flexibility to solve a wide range of storage needs.
Self Storage Container Sizes
PODS containers come in 3 different sizes, ready for loading for the smallest unit or largest home:
SMALL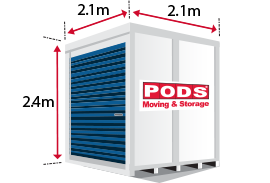 Height: 2.4m
Width: 2.1m
Length: 2.1m
Approx 10.5m3
Furnished rooms: Studio or 1 bedroom apartment*
MEDIUM

Height: 2.4m
Width: 2.4m
Length: 3.6m
Approx 20.4m3
Furnished rooms: 2 bedroom apartment or house*
LARGE
Height: 2.4m
Width: 2.4m
Length: 4.8m
Approx 27.6m3
Furnished rooms: 3 bedroom house*
*The amount of space needed can vary based on the amount and size of furnishings in your home and the additional goods stored in your garage, wardrobes and sheds. Please be sure to include all of your rooms when you talk with our Customer Service team or lodge our Get a Quote online form.
Benefits of Storage Containers
You want convenient storage. You need PODS.
PODS brings the storage container to you so you can pack it at your own pace.
PODS storage containers can be stored onsite at your location for accessibility and convenience or they can be stored in our secure local Storage Centre.
Flexibility that works for you.
PODS storage containers come in 3 different sizes: small, medium and large.
You can store your container for as short as a few weeks or as long as a few years, it's up to you.
Security and protection for a worry-free storage experience
Only you have the key to your PODS container, giving you peace of mind that your belongings are safe and sound.
PODS storage containers are weather resistant and have been tested to withstand a wind speed of up to 177 kilometres per hour when partially filled.
PODS delivery trucks are equipped with a patented hydraulic lift system, PODZILLA, minimising the shifting of contents while en route to our Storage Centres.
PODS Storage Centres feature sophisticated security systems to ensure your belongings are always protected.