This storage space estimator is designed to help you easily estimate how much storage space you will need. Simply fill in the number of items you want to store and the calculator does the rest.
This is an estimate only. The actual amount of space you need will depend on the type of goods you have, how accessible you want them to be and the way you fill your space.
PODS containers come in 3 sizes – Small, Medium and Large. Whether you've got a big house with lots of possessions to pack away or a small unit to move, we can manage the lot. Please see below the PODS container sizes available, but if you're unsure about the size you need, call our friendly customer service team on 1800 467 637.
Small container
Approx 10.5m3
From $155 per month*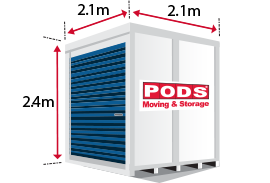 Medium container
Approx 20.4m3
From $250 per month*

Large container
Approx 27.6m3
From $270 per month*
*Delivery charges not included