Solve your school's moving and storage needs with one versatile solution
For educational institutions from Adelaide to Brisbane, inland or along the coast, PODS is the smart solution for maximising space, managing storage and transportation costs, and reducing the risk of damage and loss.
MAINTENANCE AND RENOVATIONS
Flexible Solutions
Flexibility is built into our moving and storage solutions.
For managing back-to-school bookstore rushes to tackling summertime campus renovations, adaptable portable storage is a must for an efficient, smoothly operating campus.
Get a PODS portable storage solution tailored to your school's unique needs.
Sports and band equipment
Special events
Maximising classroom space
Classroom equipment and supplies
School renovations and remodels
Seasonal storage
Drama department props and costumes
Bookstore inventory management
Faculty and staff relocation
Inventory Management
Store and transfer merchandise with ease and maximise bookstore and stationery sales.
In the rapidly changing academic retail industry, maximising bookstore revenue has never been so critical. Flexible portable storage solutions can help bookstore managers capitalize on revenue opportunities year-round.
Managing secure storage of sports and band equipment can resent its own challenges. These items are often targets of theft and vandalism, which can lead to costly replacement and reduced morale.
It's your choice: Keep your container on-campus, or have us move it to one of our nearby secure Storage Centers. We can conveniently position your container wherever you need it, be that near near sports fields, school buildings or auditoriums for easy access. No need to worry about space – our containers are designed to fit in a single parking spot.
Get your bookstore ready for the back-to-school rush! Increase inventory capacity by stationing a PODS container on school grounds, steps away from your bookstore.
Eliminate unnecessary unloading and reloading and driving trucks, freeing up staff for more crucial tasks.
Keep your bookstore organized and free of clutter, making it more inviting to shoppers and easier to navigate.
Create more room for merchandise by storing special orders, returns, and seasonal merchandise in a PODS container.
Easily access your items in our ground-level, ramp-free containers.
Maintenance and Renovation
Expanding your campus or upgrading your facilities? Reduce the risk of theft of and damage to valuable furniture, fixtures, and equipment during construction projects by storing them in sturdy, weather-resistant PODS containers.
Keep your school grounds clean and uncluttered while staying organised.
Reduce the risk of damage caused by the construction process.
Ensure subcontractors stay on schedule by giving them more room to work.
Transport items with ease. Easily load, move, and store items until your new facilities are ready.
Create more room for construction workers. Furniture, fixtures, and other equipment can get in the way during the construction process. Portable storage containers give workers more space to work, thereby speeding up the construction process.
Why PODS for Schools and Education Institutions?
Easy on-site and off-site storage
Make more room on campus and school grounds with mobile storage.
Renovating dormitories this summer? Need a place for excess bookstore inventory? Save on time and costs by storing items on campus in easily accessible, sturdy, weather-resistant PODS containers.
Or perhaps you need off-campus storage for seasonal items such as sports equipment. No problem! Give us a call and we'll deliver a container to your facility. When you're ready, we'll pick it up and transfer it to one of our secure Storage Centers until you need it.
Flexible Scheduling
Timelines can change as projects take unexpected turns. Be prepared for delays and setbacks with a solution that has flexibility built into it.
With PODS, you're in control of scheduling, so you can take as much time as you need. Keep your container for a semester or the whole school year – it's up to you.
Small footprint storage
Make the best use of limited space with small-footprint storage. PODS containers conveniently fit in the space of a single parking spot, and our drivers can position them wherever you need them, even in tight or hard-to-reach spots.
Sturdy, weather-resistant containers
Your container's contents are only accessible to your staff: You own the lock and key.
Protect valuable school inventory and assets from the elements in PODS' sturdy, weather-resistant containers, which have been determined to withstand wind velocities of up to 170km per hour when partially loaded.
Reduce the risk of moisture-related damage caused by condensation and mould.
You always have the option of dependable off-site storage inside PODS' secure, clean, and dry Storage Centers.
Leave the driving to someone else
There's no need to worry about booking drivers or inconvenient unloading and reloading. A PODS driver will deliver your container and reposition it whenever and wherever you need it, whether it's to the other side of campus or to an out-of-state game.
Our sturdy, weather-resistant PODS containers offer year-round protection of your assets. Providing moving and storage centres from Adelaide to Brisbane, we can provide a delivery service to many areas in and around Sydney, Melbourne, Brisbane and Adelaide.
With 3 different storage container sizes to choose from, we can help with the smallest or largest moving and storage situation.
SMALL
Approx 10.5m3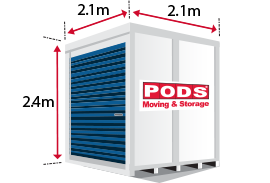 MEDIUM
Approx 20m3
LARGE
Approx 26m3