PODS Storage Solutions
Whether you're moving, selling, renovating or even travelling PODs is the perfect storage solution for you. PODS storage container is delivered directly to your door, you can pack your belongings at your own pace on your own timeline! Or PODs can send over their packing professionals to do all of the heavy lifting!
PODS storage containers can be stored onsite at your location for accessibility and convenience or they can be stored in our secure local Storage Centre. If you want to store at our Storage Centre, all you have to do is call the PODs team to come and pick up the container!
Storage That Fits Your Needs And Your Schedule
Why Choose PODS
A convenient 2-in-1 Solution
---
With PODS, you don't have to worry about juggling multiple suppliers. Here, you can pack, move and store everything you need with just one point of contact. Simply select a storage container and drop-off date, pack and let us know when you're done.
If you need your belongings taken directly to your new property, we'll drive your container straight here. If you need them stored for a while, no problem - we've got you covered there too.
Storage on your terms
---
We know moving house is stressful and the last thing you need is another deadline.
That's why, when you rent a PODS container, you're not restricted by deadlines. No pressure, no late fees – just complete flexibility. Whether you need a container for a few days or are after a secure storage solution for a few months whilst you wait for the keys to your new property, PODS is the answer.
We handle the driving
---
Focus on the packing, then put your feet up – we'll handle the rest. Our friendly, experienced and fully-certified drivers will collect your container and take it from A to B, helping you to save time and cut out expensive petrol and truck rental costs.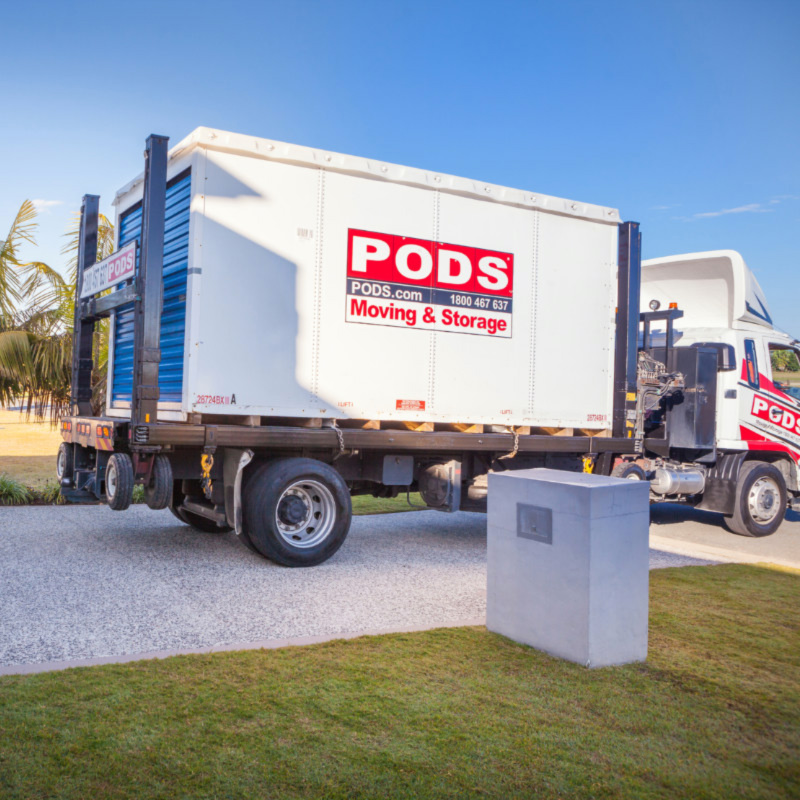 Secure Level-Loading System
---
Say goodbye to smashed vases and dented furniture. Unlike traditional storage and moving companies, PODS utilises a secure level-loading system which stops your items from tilting in transit, ensuring they arrive in the same condition they were packed in.
Container Sizes To Fit Any Space
PODS has three convenient container sizes to fit any size move. Fore large moves, mix and match container sizes to fit your space.
PODS has three convenient container sizes to fit any size move. Fore large moves, mix and match container sizes to fit your space.
Storage FAQs
What can I store in a self-storage container?
Virtually anything – as long as it's legal and sensible.
Our customers frequently use their personal storage units for:
Furniture

Electronics and appliances

Files and documents

Seasonal items

Books, magazines and newspapers

CDs and DVDs
Can I access my belongings in storage?
You can schedule access to your container by contacting our customer service department. Access is available to our Storage Centre locations typically within 24 to 48 hours, 6 days per week. There is no additional charge for this service. PODS internal container access can vary by location.
How much does storage cost?
Prices vary depending on what you are looking for and how much inventory you have. Some facilities might also charge different prices depending on states and distance from the CBD. PODS offer practical storage from just $155 per month. You can also request a quote online in just a few minutes to get pricing that's tailored to you.
Where is my container stored?
How long can my container be stored at a Storage Centre?
Your container can be stored at a Storage Centre for as long as you need – from a couple days to a couple years!
What container size will I need?
PODS containers come in 3 sizes – Small, Medium and Large. The amount of space needed can vary based on the amount and size of furnishings in your home and the additional goods stored in your garage, wardrobes and sheds. Use our Space Calculator to find out which container size bests suits you.
What can't I store in a container?
In order to protect not only your belongings, but also the storage facility staff and the facility itself, some items are prohibited from being stored. You cannot store:
Hazardous or toxic materials

Explosives

Guns and Weaponry

Radioactive Material

Perishable Goods
Discover more things you shouldn't store in a self-storage container here.
How safe will my belongings be?
Only you have the key to your PODS container. PODS Storage Centres feature sophisticated security systems. PODS delivery trucks are equipped with a patented lift system that minimizes the shift of contents while in transit. PODS offers a content protection cover.
Very good service, a great experience. Accounts were issued on time, customer service was excellent especially by Lisa. Access was easy to arrange and always on time.

Wendy on the phone was lovely - took time to explain & listened to questions. Knowledgeable on products too, quote was accurate. Both drivers very nice as well, in particular drop off one, genuinely friendly, made it much less stressful, thanks team.

Sydney

The staff that I spoke with were excellent and assisted in every way possible. Specifically, Renae was very helpful and made the process easy for me. Graham and David were also fantastic and did everything they could to assist with delivery.

Sydney
Plan your storage with PODS
Want to see just how little it costs to store with PODS? You will receive your quote in less than one business day.