Disaster Response Solutions & Insurance Rectification Works Support
Damage and loss caused by extreme weather or other unforeseen events can lead to a great deal of stress for business and residential customers alike. With years of experience providing emergency solutions to business, PODS can help manage the stress of moving or storing your business or customer's assets during difficult times.
PODS provides flexible, immediate solutions to a host of different business environments, including insurance carriers, restoration contractors and emergency response agencies. With PODS containers, you can expand onsite storage capacity and duration as needed, and offer short- and long-term storage in a secure environment.
We have helped customers in many different emergency situations, including:
moving belongings from homes and businesses before flood water inundation;
moving belonging when bush fire threatens homes;
storing belongings and business assets onsite while emergency repair works are undertaken;
storing belongings onsite and offsite while extensive insurance rectification works are carried out.
Flexible Solutions
PODS understands that flexibility is essential for insurance agencies and rectification contractors. The flexibility of one service or combined moving and storage solutions, and short- and long-term storage periods, work to increase the efficiency of your response efforts; and also work to reduces your customers' stress and enhances their experience.
You can also provide your customers with multiple storage options:
they can keep their belongings onsite at their home or business; or
store at one of our Storage Storage Centers; or
store at a temporary residence or location.
We understand too that changes in project scope can be inevitable. At PODS, you can get the quantity of containers you require with the flexibility to scale up or down should your project size and scope changes.
Why PODS for Emergency Moving and Storage?
We can respond quickly and provide a delivery service to many areas in and around Sydney, Melbourne, Brisbane and Adelaide.
PODS® containers are made of steel frame construction with a water-resistant seal and can withstand winds up to 170km per hour when partially filled.
With 3 different storage container sizes to choose from, we can help with the smallest or largest home emergency situation.
SMALL
Approx 10.5m3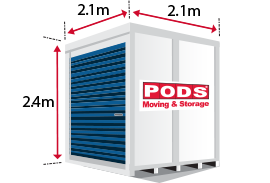 MEDIUM
Approx 20m3
LARGE
Approx 26m3