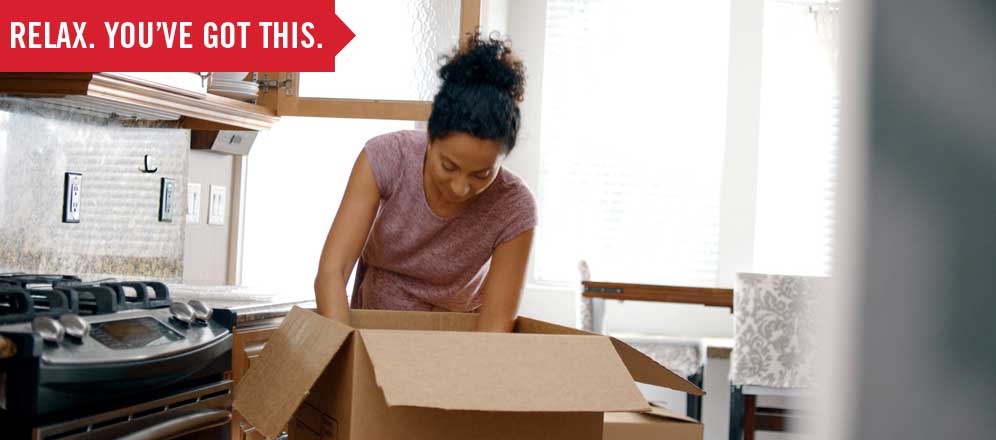 So you're planning an interstate move. We know how stressful moving can be.
With so much on your mind, it's normal to feel anxious, or even mildly panicked right now. We want to help you maintain control and overcome many of the challenges that inevitably pop up during long-distance moves.
We've pulled together some resources from our blog and website to help you plan and prepare for your long-distance and interstate move. And please remember we are only a phone call away. Our Customer Care team are experts when it comes to long-distance moving. Call 1800 467 637 during business hours for assistance.
A Few Quick Packing Tips
Pack valuables and essentials separately and keep them with you.
Put heavy items in smaller boxes for easier lifting. Lightweight items can go in larger boxes.
Reinforce the bottom of all boxes with tape.
Make sure the top and sides of the boxes don't bulge or cave in when packed.
Use moving blankets to protect furniture.
Wrap couches, mattresses, and other "soft" furniture with mattress bags.
Some Quick Loading Tips
As you're loading your container, use the tie-down hooks in your PODS container with rope to secure your items.
Don't load all your heavy items first. Distribute the weight of your contents throughout your container. Washers and dryers should be placed in the center of your container.
Place heavy items on the bottom and lighter items on the top.
Mix small items with larger items to fill spaces. Don't save all your boxes for the end.
Use a mattress, large cardboard sheet, or four flattened, extra-large boxes taped together as a barrier for objects that could fall against the door during transit. This helps prevent the door from jamming.
Don't forget to lock your container when you've finished loading it.
How to Load A PODS Container
With proper supplies and a few helpful tips, you can pack like the pro!
Moving Interstate Tips and Resources
VIEW ALL
If you're reading this, chances are that you've decided to take the plunge and trade your Sydneysider status to become a Brisbanite. Whether you're excited, feeling nervous or starting to panic, there's a lot to consider before moving from Sydney to Brisbane. To help you ensure that you have all your bases covered, we've put […]

It happens all the time, the house sells and the new buyer wants in immediately. While on one hand it's obviously a big relief not to have to worry about selling your old house anymore, there's plenty left to do. That's because selling your home is, of course, just part of the equation. It's now […]

So you're moving interstate (and you're overwhelmed!). Well, you're not alone. An estimated 340,000 people move interstate each year in Australia. But of that number do you know who are the most successful movers? You guessed it – the ones who plan and prepare. Of course, this doesn't guarantee a smooth process. But if you […]
Are you packing for your next move? Packing clothes, furniture and some of your miscellaneous things can be easy, but packing appliances can be a bit tricky. They can be the most fragile (and expensive) items in your home, and you don't want to end up with a broken coffee machine or TV screen at […]

Are you thinking of putting some goods away in storage? Then you'll need to take some precautionary steps before storing your goods long term. It is possible to preserve your belongings in storage, so they'll be in good shape when it is time they come out. But don't think that simply boxing your goods in […]

We all love a good garage sale, and it's coming up to that time of year again, the annual Garage Sale Trail. Now in its 7th year, it has grown into a weekend of garage sales across the country. For 2017 it is happening Saturday 21 and Sunday 22 October. You can find out more […]
Moving Checklists
VIEW ALL
Moving house is one of the most stressful experiences one can go through in life. Psychologists say relocation can be as stressful as a divorce. Moving interstate is a much bigger move than a local move – not just because of geography, but there are generally more services to manage, schools to think about, and […]

Moving house is an exciting but, often daunting task. There are a myriad of things to consider, but with the right planning you can simplify the process and reduce some of that moving stress – and we can help!

PODS knows that getting ready and placing your goods into storage isn't always a straight forward process. We have put a Storage Checklist together for you to help make it easier. Don't forget that our Customer Care team are only a phone call away, ready with advice and information to help you. Please call us […]